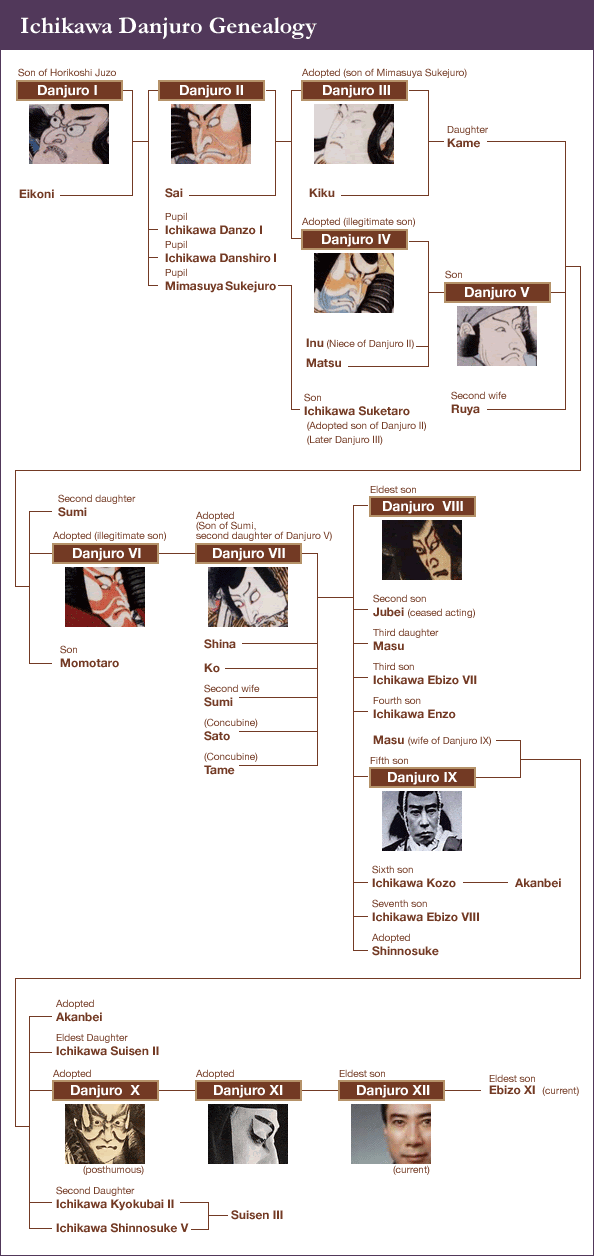 The Mystery of Danjuro's Ancestors
There are several theories about the Ichikawa family's place of origin:
For several generations the family were samurai in the province of Koshu (present day Yamanashi prefecture), but they later moved to Shimosa province to the east of Edo, where they settled in the village of Hataya. By the time of Danjuro I's father, the family moved to Ichikawa where they became farmers. Sometime around 1650 they moved to the city of Edo. This is the version related by Utei Enba in Genealogy of the Ichikawa House (Ichikawake Kafu).
The family were from the village of Ichikawa, near Tsubo no Ishibumi in northern Japan. (Matsunoya Hikki)
They from the village of Ichikawa, Katsushika district. (Tozuisha, Kokon Zatsudan Omoide Soshi).
Since the stage arts of the Ichikawa family contain notable religious elements, others have theorized that the family is descended from a class of religious proselytisers cum entertainers.
Danjuro X favoured the Koshu theory, and he officially recognized the family's place of origin as Mitama-cho in the Nishi-Yatsushiro district of Yamanashi prefecture. Danjuro XI had a wooden signboard put up to mark the link. Finally, to coincide with the name-taking ceremonies for Danjuro XII in November 1984, a permanent stone tablet was erected in Mitama-cho. In June 1994 the town opened a memorial park called the Mitama-cho Kabuki Culture Park.
Text
:
from Hattori Yukio, Ichikawa Danjuro Daidai. Tokyo: Kodansha, 2002.
Prints
:
Collection of the Tsubouchi Memorial Theatre Museum, Waseda University.
Photographs
:
Collection of the Ichikawa Family (Danjuro IX & X)
Ishii Masako (Danjuro XI)